It is that time of year again woo! I just love fall with all the oranges, browns, reds, and yellows. Adorable kids walking around in their cute Halloween costumes trick or treating and sitting back by a cozy fire sipping on Apple Cider! Come check out our awesome Halloween costumes for everyone in the family!
The best Halloween Costumes!
Have you ever wanted to have super powers? Sure you have. It's one of the most common (and satisfying) daydreams there ever was. While we can't say you'll have superpowers when you dress yourself in one of our superhero outfits, we do think you'll feel super, look incredible, and inspire others to pursue truth, justice, and the American partying way. A good hero starts at a good costume and that's exactly where we come in! We carry adult superhero costumes as well as styles for kids and toddlers, so you can find superhero family costumes for the whole clan. If you're already impressed by our staggering collection of superhero suits and gear and need just a little extra help in making your decision, we've gone the extra mile to assemble a few tips and tricks to help you come to the right conclusion. This guide will give you a run down on taking the best photos with your little ones and finding the best superhero or superheroine to be this year. We have all of the top choices for female superhero costumes for the ladies, and styles that will transform any man into a muscled do-gooder. And for good measure. we've included the top hero groups if you've got a team in mind for your mission. Just check out the best superhero costumes and get some ideas below for the ultimate costume inspiration!
We would like to point out that while there's lots of good to be done as a superhero, well, sometimes it's just more fun to be a bad guy. If you have a group that relishes in deviousness there's one cadre of callous evil-doers that stands out amongst a universe of comic book villains—Batman's Rogues Gallery. The various villains Batman has faced over the years would make quite the ferocious force if ever they assembled together in the same lineup. Which is why you should totally do it with your group! There's sure to be a Batman at your party anyway, so you might as well show up en masse to give him a tough time. Even if you're not seeking to disrupt the peacetime partying, we're sure there's lots of fun to be had when these DC Comics characters get together!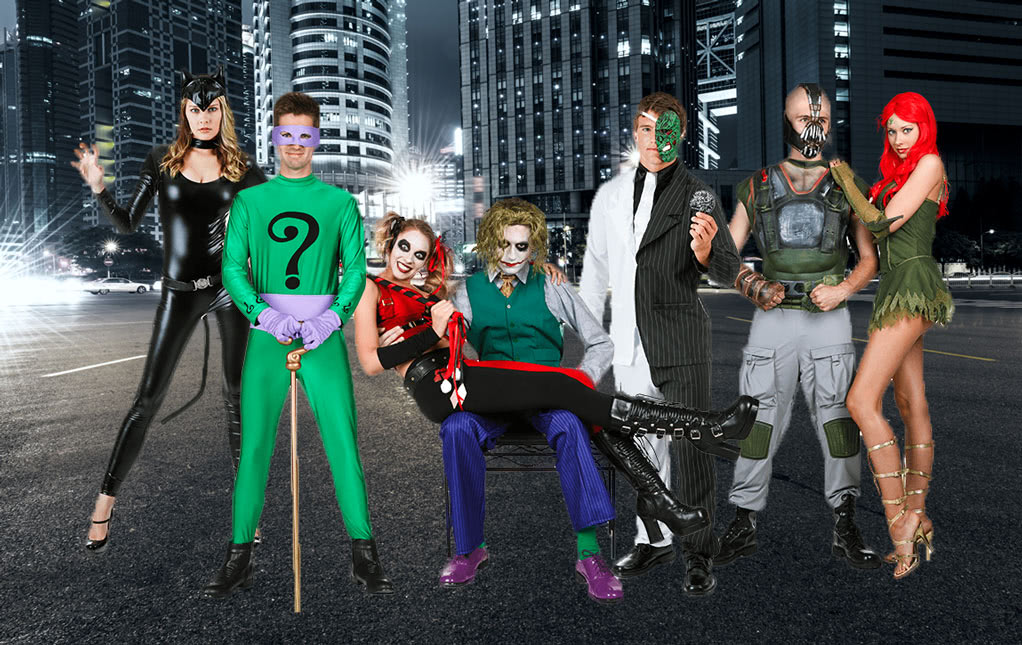 DC COMICS FAMILY READY FOR A THROWDOWN

It's a good thing Wonder Woman is here to watch the little ones, because we're not sure The Riddler is going to best the best guardian over the young superheroes in training. Batman, Robin , and Catwoman can team up to hit the neighborhood in search of the best treats, but while The Riddler is busy trying to vex the neighbors with tricks and riddles, Wonder Woman can provide a watchful eye over her superheroes in training. When it comes to taking the yearly photo of the group, just let each member bust out their signature moves. Batman and Robin can look like stoic Gotham City residents, even while Catwoman throws her claws up in anticipation of a brand new heist. The Riddler is sure to be laughing, but as for Wonder Woman? Well, she's the one that holds the group together. (Be it with her motherly instincts or just by keeping the Golden Lasso of Truth handy!)
So whatever Halloween Costumes your in the market for we have everything your looking for! Just Shop Online and save all the madness from being at those pesky crowded Halloween stores!